International Masters and Seniors

Tijuca Rio de Janeiro August 2004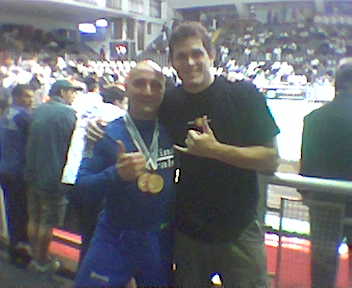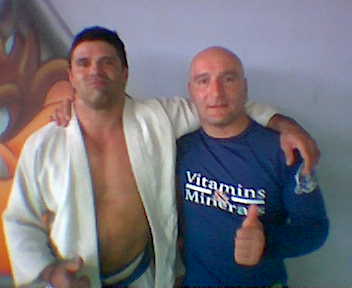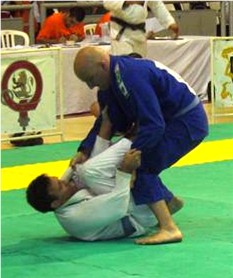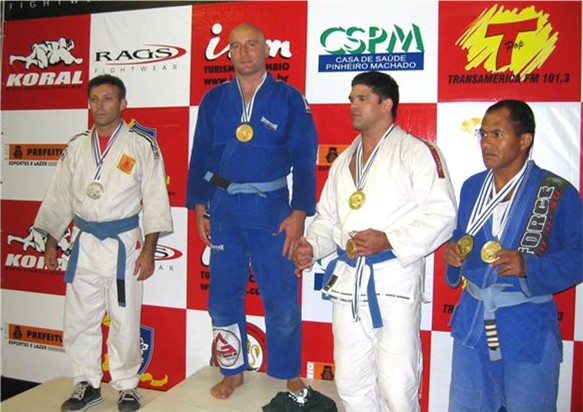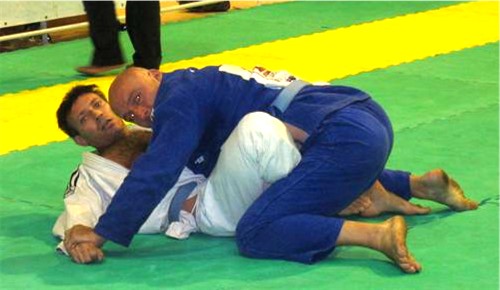 Dave with Roger Gracie

Gracie Barra Birmingham fighter Dave Coles travelled to Rio De Janeiro Brazil to compete in the World Masters Brazilian Jiu Jitsu Championships. Dave was looking to improve on his recent gold medal in the European championships. Competing in the Blue Belt under 91kg category, Dave had a bye in the first round before facing a German opponent in his first fight. Dave opened the scoring with a two point takedown followed up with additional points for a pin, Dave dominated the fight before submitting his opponent with a choke. In his second fight Dave faced a Brazilian opponent, this was a much closer match with Dave securing a narrow points victory after the fight had gone the distance. In the final of the heavy-weight division Dave faced another tough Brazilian opponent and after three minutes of the contest the scores were level. In the final two minutes Dave's superior levels of fitness began to tell and he dominated the closing stages of the fight to secure a 12-0 points victory and become World Masters Champion.

Just 2 hours later Dave began his quest for another World medal, joining 32 other competitors in the absolute category. In the first round he faced a Canadian fighter and after 4 minutes of the contest Dave submitted his opponent with an arm-lock.

Round two he faced another tough Brazilian from the De la Riva academy. The fight was very even but in the closing stages of the match Dave caught his opponent with an arm-lock to secure victory. The quarter-final saw Dave face Bruce Tayafoa, a tough American fighter who had not been submitted in over three years of competition. Dave dominated the 5 minute fight, and with 10 seconds remaining ended the Americans 3 year record by submitting him with yet another arm-lock.

In the final Dave faced a French fighter from the De la Riva Academy, and although this time the weight advantage was with Dave this proved to be the most technical fighter he had faced all day. Immediately the Frenchman took the fight to the floor but Dave remained in control for most of the fight, securing a number of pins and making several submission attempts. Although Dave was unable to submit the Frenchman, he secured a convincing 9-0 points victory to collect the absolute title. In the semi-final Dave faced American Mark Lafond, a 6' 3", 17 stone Baltimore State wrestling champion. In the initial phase of the fight Dave struggled to cope with the power and strength of  the American, and in his own words was 'being thrown around like a rag doll', but despite the 3 stone weight difference Dave managed to drop under his opponent and throw him with a shoulder throw, which he immediately followed up with an arm-lock technique that left his opponent unable to continue in the event.